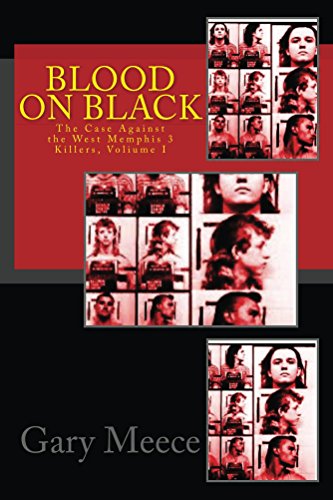 https://www.amazon.com/Blood-Black-Against-Memphis-Killers-ebook/dp/B06XVT2976/ref=sr_1_1?keywords=blood+on+black&qid=1559059428&s=gateway&sr=8-1
https://www.amazon.com/Where-Monsters-Go-Against-Memphis-ebook/dp/B06XVNXCJV/ref=sr_1_1?crid=XNLYB8QUIQ7F&keywords=where+the+monsters+go&qid=1559059470&s=gateway&sprefix=where+the+monsters+go%2Caps%2C167&sr=8-1
https://www.amazon.com/Case-Against-West-Memphis-Killers-ebook/dp/B07C7C4DCH/ref=sr_1_3?keywords=gary+meece&qid=1559059536&s=gateway&sr=8-3
https://www.amazon.com/gp/product/B0753HJZ1P/?ie=UTF8&keywords=gary%20meece&qid=1559059573&ref_=sr_1_6&s=gateway&sr=8-6
https://www.amazon.com/Blood-Black-Against-Memphis-Killers-ebook/dp/B06XVT2976/ref=sr_1_2?keywords=gary+meece&qid=1559059573&s=gateway&sr=8-2
"One of the guys had a devil worshiping book and we would go by it."
Self-confessed Satanists in trouble with the law became a prime source of information.
Alvis Clem Bly, 36,  had been charged with sexual abuse, first degree in March 1993, and was still in the Crittenden County Jail when Detective Allen talked to him on June 29  about his involvement in the cult. Bly at times seemed almost incoherent while nonetheless giving details that concurred with others' statements. 
Bly had lived on East Barton in West Memphis, in the neighborhood of the victims, and in Lakeshore prior to being arrested. He had been involved in the cult for about a  year.  About 20 people, never less than eight, were involved. 
"We always had a certain time to meet out there during the week. ... We always go on Sunday" at  6 o'clock in the evening. "It was in the book that's what time you're suppose to start it."  "Buckland's Complete Book of Witchcraft," the go-to text locally for witches, said, "Most covens meet once a week, but there really is no hard and fast rule." There was little agreement among professed occultists talking to police about meeting times. 
Bly explained: "Well we just go out there and one of the guys had a devil worshiping book and we would go by it, which was sacrificing dogs or chicken. We would drain their blood. Then we would take and cut the heart out and put it in the center of the pentagram and set fire to it and worship the devil."
He described the pentagram as "a devil symbol" placed "on the floor."
"They had some chalk, some  white powder chalk and some blue chalk like carpenters chalk and would draw it with it."
Bly, who had been following the case in the news, named Misskelley and Baldwin as participants.
He said cult members called Baldwin "Davien."  Allen got out a newspaper with a story about the killings and photos of the three suspects. 
Allen: "Okay is this the one they call Damien?"
Bly: "No sir."
Allen: "That's, I'm point to Jason Baldwin?"
Bly: "I see, that's ... that's not Davien, the other boy was Damien, I don't see him on th ... there he is, that's Davien there."
Allen: "Okay that's the one they call Damien there."
Bly: "Yes sir."
Allen: "Davien, what ever you know him as."
Bly: "Davien that's devil name."
Allen: "Okay, and this is the person you know as Baldwin?"
Bly: "Yes sir."
Allen: "Point to a picture of Jason Baldwin and this person here, do you recognize him?"
Bly: "He's the leader, Misskelley is." Clearly, Misskelley was not the leader. 
Allen: "Okay, um."
Bly: "All I know is Jason or Jes or Jessie, something like that."
Bly named locations for cult activities, such as an old red barn behind Lakeshore, a huge, empty house out on Highway 50 North and a shed behind a house on Rich Road in West Memphis. 
Bly claimed he had had a ski boat and had taken Misskelley down to Hernando Point  in Mississippi the previous summer (though he was uncertain about Misskelley's first name).
Bly: "I don't know how we brought it up but I used to not believe in the Bible or the Lord, and he ask me if I was atheist and I told him yes and that's how I come about getting in it, he told me that devil would give me more than God ever would."
Allen asked about illegal activities within the group.
Bly: "Killing the dogs was illegal to start with because we would steal the dogs from people and um, that rape where they rape that girl out there I know that was illegal."
He said the rape of a girl who was a member of the cult occurred at Stonehenge. Ricky Climer had mentioned a rape as part of a hanging ritual. 
Bly: "Well, Misskelley came up with the idea of it and then Baldwin went along with it. Baldwin was the first one that rape her, which she kinda went along with, but when the other guy started doing it, she had a fit about it, said she would tell."
He named a 16-year-old who lived in Lakeshore as the victim.  She apparently was never interviewed. 
Stonehenge, he said, was "the only place we sacrifice dogs at."  
"How we do the dogs, we beat them to death first ... with sticks ... and they were alive when they we hung them up. We would beat them to death over the top of the pentagram. ...
  "The pentagram would be drawn on the floor right under where we hung the dog up ... We would hang the dog up above that and then we would cut his throat his thing, and we would catch the blood in a pail. ... And then we drink a cup full apiece of the blood and then we would cut its head off, then we would cut him open and cut his heart out. ... We would put the heart in the middle of this and pour alcohol on it and mixed with baby oil ...
"We had a pie pan that we would set in the center of this, which is the same thing I'm talking you know we got the blood in it and then we would put the baby oil on the heart and you know burn it, it wouldn't burn it up but it would burn it, and then we would praise to the dev ... devil and stuff."
The dogs were tied up by the hind legs. "Everybody had to hit the dogs, everybody ... if you didn't hit him you had to leave."
  Bly said he would have expected the boys to have been beaten to death with sticks. "They would have raped them, usually. Like I say, I won't know why they didn't cut their heads off cause you suppose to, if you've done that you're suppose to cut their heads off, we cut all the dogs' heads off. ... We would hand the head up and do away, throw the body down it, it big ditch there by Stonehenge." This was a rare mention of disposing bodies in a ditch. 
Allen asked, "Any other body parts that they might cut off?"
Bly: "Their penis ... bite it off ... that's what it reads in the book to do ... devil circumcision."
Allen: "What did they, did they do this dog?"
Bly: "No sir ... wasn't nobody, wasn't nobody had the courage to do it to the dogs. ... We would cut, we would cut their penis off ... But they wouldn't bite off like you were suppose to."
Bly: "Misskelley always had the knife he carried on his side all the time, it's a hunter's knife. ... It uh, had a leather handle wrapped leather handle ... It had a can opener ... It come out and it was swivel down the top ... like a little saw deal." The blade had "ripples in it ... it called a gut knife." Bly said the knife was about 11 inches, total length. "It's called a bleeder, what it is, gut knife."
Bly couldn't remember what was said in the ceremony.  "We read it out of book that we got from ... from the library here." He described the book as "the devil something,"  "black, shiny black," "about a 100 page book," "it's got like a dragon, like a dragon with like a goat's body" on the cover.
"It was St. Lucifer second son ... it was Satan on the front that's who it was."
Allen asked about Echols' role.
     Bly: "Well we took turns, sometimes he would cut the heart out, sometimes I would, or Misskelley, or any of the other people, we all, we spread it out different times every who didn't do it the last time would have to do it that time."
Bly said that when he left the cult, they were discussing the sacrifice of children. "They were trying to pick out, you know wanting to know who we could pick out to do it to ... I was already leaving the cult anyway because they raped that girl. ... This was about a month before the boys got killed. ... They were planning on sacrificing them up here on 50 at that house and leave them there."
Another Bly, Charlotte Ann Bly Bolois of Parkin, met with Detective Ridge at the First Baptist Church in Parkin on Oct. 13  partially to describe to him the site of a Satanic ritual in Crittenden County.
She said that someone named Chris,  from either Lehi in Crittenden County or Paris, Tenn., and Greg Wilson,  from "somewhere in Alabama," had set up the ritual site close to Shell Lake, about a mile and and a half out in the woods, south of Earle.  Ridge, who had been to the site, said it was east of 149 Highway. "There's a bunch of tarpaulin up there now and then was just a old green rag tent," said Bolois. 
She said they were staying with Amy and Eddie Wilson, relatives of Misskelley confidant Buddy Lucas.
She said she went to the site with Chris and Greg in September of 1992. 
Ridge asked, "OK, what was taking place when you go there?"
"They were doing a bunch of devil worshiping talking silly," said Bolois.
Bolois: "They was huffing gas and glue and everything else they could find. … They got the glue out Eddie's shop back there."
Ridge: "OK, you got upset I understand?"
Bolois: "Yes."
Ridge: "OK, did anything else occur or was there anything told to you that's what they were doing devil worshiping?"
Bolois: "I seen Greg turn into something silly, I don't know what it was but it was some kind of animal."  Her reference was unclear and Ridge did nothing to clarify;  a reasonable assumption would be that Greg imitated an animal. 
Ridge: "OK, now Greg has told you he has did something with an animal out there is that correct?"
Bolois: "He killed one of Amy's dogs. … It's suppose to have been a sacrifice."
Bolois, who was cousin to Buddy Lucas and knew Damien from school, said about Echols: "He's a weird person, I know he uses drugs and he's a devil worshiper I know that much. … He ask me if I was a devil worshiper and I said no, he said well you're hanging around one, that's exactly what he said."
Bolois, who had lived at Lakeshore, never heard of any devil worshipping there. 
Bolois said devil worshiping had continued at Shell Lake since her visit, and that Buddy Lucas had gone to the site with Chris and Greg Wilson on Halloween of 1992.  
 As Ridge observed, "Halloween should be a big night for devil worshiping." In the Mid-South that time of year is a welcome respite from oppressive summer heat, when lots of community festivals take place, school football games are well-attended and nighttime becomes pleasantly cool. Echols has named Halloween as his favorite holiday. 
Like October, May in the Mid-South is a distinctive time of year, being a relatively warm but pleasant climate before the summer heat arrives in June; along with the end of the school year, there are many outdoor activities and festivals. May is not a month easily mistaken for another in West Memphis and Marion. 
Both months were prime time for witch cults.
The disjointed and otherwise suspect accounts of Alvis Bly and Ricky Climer, despite obvious problems, offered further evidence that witch cults were alive and thriving in Crittenden County in 1992-1993.